Over-dry prevention : reduce drying time, utility & labor expenses
IPSO

's Over-Dry Prevention Technology (OPT) offers unmatched levels of accuracy, resulting in a pinpoint dryness reading throughout the entire load
Specialized sensors located within the lifters are connected to our revolutionary rotary transfer switch to determine the exact moment your linens are dry, which helps eliminate over-drying and increases throughput. Additionally, it reduces utility consumption, saving hundreds of euros a year in unnecessary energy costs.

IS OVER-DRY COSTING YOU THOUSANDS?
In a recent survey of commercial laundry distributors and commercial laundry managers, 79% of all respondents believe OPL laundries over-dry by more than 8 minutes per cycle. The "OPTimum" control, using the newest "over-dry prevention technology" or 'OPT', reduces utility and labor expenses and extends linen life by eliminating over-dry. As the charts below illustrate, that adds up to some serious savings.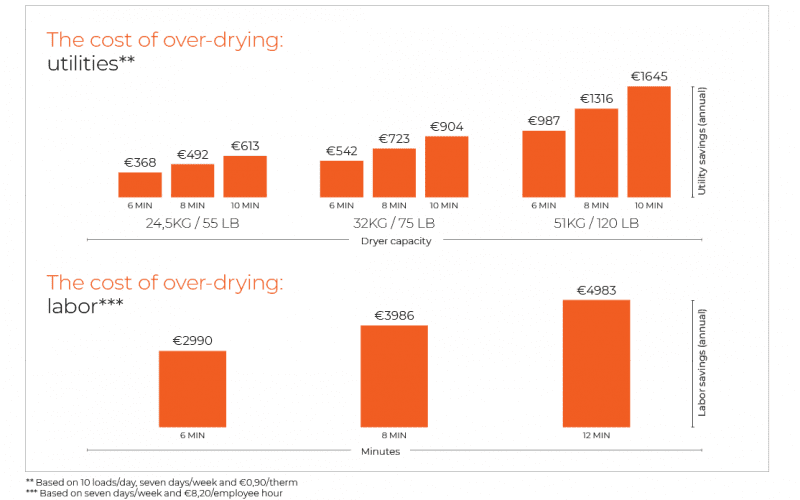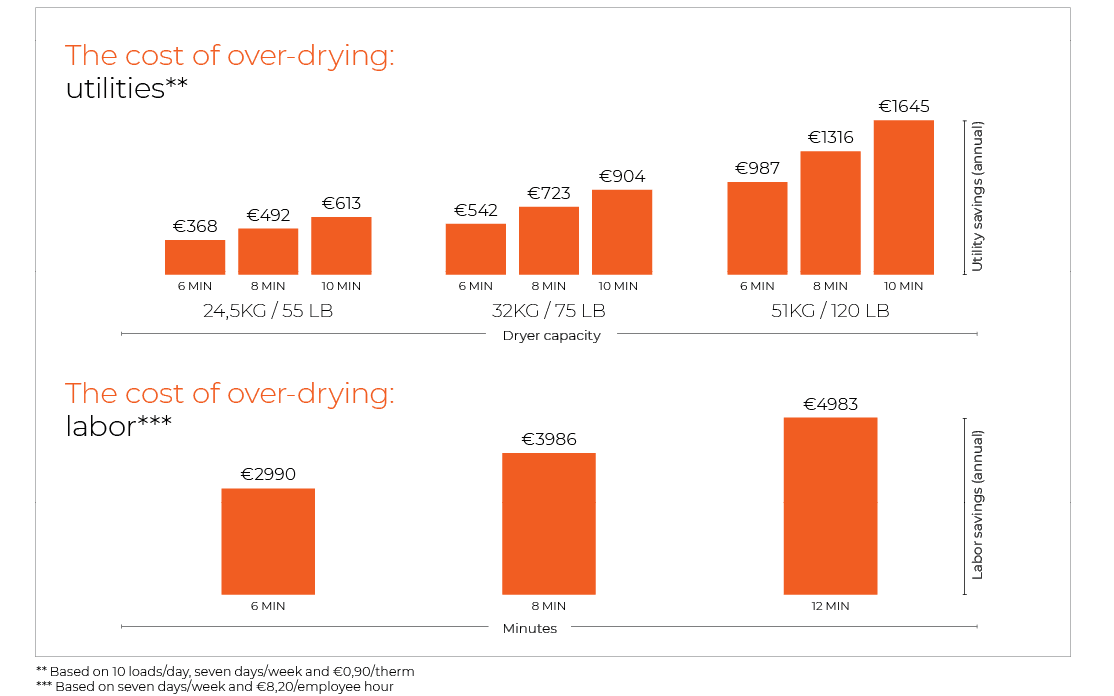 HERE ARE 3 REASONS WHY TO CHOOSE AN IPSO INDUSTRIAL TUMBLER WITH OPTIMUM CONTROL
Reduce utility costs:
When a load reaches its preset level of dryness, OPTimum automatically stops your tumbler. This feature can translate into utility savings of up to thousands of euros annually.
Minimize labor costs:
Your tumblers dictate the pace of your laundry facility. With OPTimum, the drying time of each load is reduced. The result is maximized throughput per labor hour and jaw-dropping savings of thousands of euros per year.
Get more life out of your linens:
Over-dry your linens causes them to become prematurely tattered and worn. According to the results of a study done in our industry-leading Test Lab, linens experience 31% LESS FIBER LOSS when over-dry is eliminated.