First-class hospitality starts with a first-class laundry service.
IPSO

has been serving the hospitality sector for more than 40 years, helping professionals to provide their customers with the premium laundry service they deserve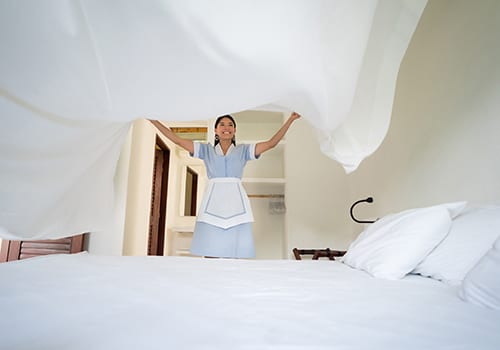 We know how vital it is for you to be able to provide a premium quality laundry service. Particularly as it is this attention to detail that gets noticed by your guests and adds to the pleasure of their stay.
The on-site solution that's right for you, Laundry is all we do. We know the hospitality industry inside out and we focus all of our skills, resources and innovation on delivering world-leading laundry solutions for our customers.We also gain deep insight in the field through a close working partnership with distributors that is second to none.
The on-site laundry solution, that's right for you
We understand the day-to-day laundry requirements of a busy hospitality business. We also know the benefits of opting for an on-site laundry solution. Choose IPSO and you're in control of both your costs and your linen supply, while also maintaining a high level of flexibility and hygiene standards.
Benefits that increase your laundry service's performance
Whatever the size or style of your business; whether you need laundry machines for a hotel, a hostel, a motel, a bar, a restaurant, a resort, service apartments, etc, we cover every aspect for you and tailor a solution to your precise requirements.
IPSO has the knowhow to advise you on the business benefits of the following:
A full in-house hospitality laundry solution: washer-extractors, tumble dryers, flatwork ironers and finishing equipment
An in-house terry towel laundry service
A valet laundry service
Specialist wet cleaning for delicate garments.
Read more in the Hospitality segment brochure or contact your local IPSO Partner.